Strategically Targeted Services


OUR SERVICES
BRAND BUILDING
What is a brand? It is more than what you put on your products or a graphic sitting that the top of your website. A brand is an identity and it should be separate from your own. You should treat your brand like your child, with the right marketing it is going to grow up and go out in the world, and what people say about it will reflect directly back on you. Make sure you build your brand on a strong foundation, give it the best image possible. We specialize in helping you foster a strong brand. We'll sit down with you and brainstorm ideas. Once we nail down your company look and morals we'll produce you everything you need to get your brand off the ground. Generally this includes business cards, letterheads (because a typed and signed letter is still more powerful than email), a responsive website, vehicle graphics (if desired and depending on your industry), branding labels (if your company produces products) and branding guidelines to help others keep your image strong. Be sure to ask about a Brand Book if you'd like a hardbound copy for future reference.
WEBSITE DESIGN
From custom logo design, mail pieces, business cards, vehicle wraps to restaurant menus we can produce the look and design that will satisfy your needs and expectations. Let's take your marketing beyond the web to form an effective comprehensive brand building campaign. Have an ad you'd like produced for a magazine or newspaper? Need some flyers to promote an event? Give us a call and see what we can do, how much better we can do it, and how much more affordable we are compared to the other guy.
Need a unique idea for an upcoming ad? Let us step in to help you sculpt an ad campaign that will position your brand positively and effectively. Give us a call, we'll come to you to sit down and discuss your needs.
These are base pricing, for a full quote please contact us or use our estimator tool.
Single Page Powerhouse
Get on the web, get found
$1,500
One Time Fee (+10 / Month Hosting after the first year + Annual fees for domain)
This type of website is built as a single page with information about your services, offers, location etc. It will feature a header with your logo, a custom responsive design, smooth animation, mobile friendly navigation, calls to action including popups for special offers to grab your customers attention or ask them to sign up for your newsletter, and an easy to use contact form. With this you'll also get a custom domain name purchased with a custom email address.
Custom Design
Mobile Friendly Responsive Design
Dynamic Lead Generation
Contact Forms
Custom Domain and Email address*
First Year Free Hosting**
*2 email addresses included (One personal and One Info@) **Free hosting on a shared server
The Multitalented Webspace
A Multipage website geared at driving your business forward
$3,500
One Time Fee (+10 / Month Hosting after the first year + Annual fees for domain
With this you get everything included in the "Single Page Powerhouse" in a multiple page format with each page designed to target a specific area of your industry. A website with specific landing pages for each of your services ranks better on Google & other search engines than a website with just short general information about all services on one page.
Everything included in the "Single Page Powerhouse"
Up to 20 Keyword focused landing pages*
Up to 6 custom email addresses
*Additional pages will be billed at current hourly rate
The Nitro Market
A Responsive, user friendly, time tested full service E-commerce website
$5,500
One Time Fee (+$35 / Month Hosting + Annual fees for domain and SSL certificates)
With this package you get everything in the Multipage format, plus a full fledged ecommerce store built on Woocommerce. This includes setup for hosting, shipping options, and the first 50 products for your store + training on adding additional products.
Everything included in the "Multitalentated Webspace"
Unlimited Custom Email Addresses
Shipping Integration and Setup
First 50 Products
Staff Training
PRINT DESIGN & PRODUCTION
From custom logo design, mail pieces, business cards, vehicle wraps to restaurant menus we can produce the look and design that will satisfy your needs and expectations. Let's take your marketing beyond the web to form an effective comprehensive brand building campaign. Have an ad you'd like produced for a magazine or newspaper? Need some flyers to promote an event? Give us a call and see what we can do, how much better we can do it, and how much more affordable we are compared to the other guy.
Need a unique idea for an upcoming ad? Let us step in to help you sculpt an ad campaign that will position your brand positively and effectively. Give us a call, we'll come to you to sit down and discuss your needs.
VIDEO PRODUCTION, TIMELAPSES, DRONE
It is our belief that a good website is only a great stage for our clients to engage their clients. We are living in an increasingly visually competitive age. Your clients are looking for easy to digest video content when they visit your website. We can work with you to produce quality video production. We offer 30 second commercial video services that include an animated logo intro or exit, on site video shoot with voiceover over, an ending call to action, and publication on youtube, facebook and your website.
We also offer short duration timelapse shoots for smaller projects. These are especially beneficial to contractors to show your clients snippets of your progress and showcase your skills to potential clients.
We also offer drone photography services. (At least a 2 weeks prior notice is necessary for all drone shoots). Let us shoot a before and after from the sky, or do a nice fly over of a new pool, home, landscape or any project you've just finished. These also work well to showcase your location of service. Give your customer a birds eye view of your business, walk them through the door so they are instantly comfortable when they do pay you a visit.
Our video shoots with a steady cam also work well for selling homes, let use mix Drones with a few walk through stead cam shoots to really show off your listing.
OTHER SERVICES
Photography : Long time photographer with full equipment for shooting products and locations
eCommerce Consultation and Development : After spending a few years as eCommerce manager for a retail store, I know the challenges you'll face and platforms to use.
PPC & RESULTS
Google is pushing people toward a pay-to-play model. We've all heard the saying that you've got to spend money to make money. Google (67% of the current search engine market) is the gorilla in the search engine jungle. Google is your paid guide to your potential clients and customers that will help you hack your way through the digital search engine clutter and reach your target market. We'll consult with you to develop keywords that are most relevant to your business then streamline those through research to show exactly what terms your customer are searching for (yes it even matters whether there is a 'S' on there or not). After we've narrowed down your keyword list (which can be as many keywords as you want, we recommend at least 6) we will then define (more like you'll define) your monthly budget for those keywords. Big or small we'll show you the available market in your search area and give you the realistic picture of what your budget will get you. Go after as much or as little business as you want. After we nail down your monthly budget we will set the appropriate max cost per click (the most you'll be willing to spend per potential customer click) we'll launch your campaign which will start showing up in search results after Google approves the ads (we highly recommend not clicking on the ad yourself and asking your friends to not click there either as it will result in you paying for their unqualified click.) In conjunction with a good PPC campaign we will provide as comprehensive reporting as you desire. From simple "This is how many clicks you get" to "this how many clicks, which browser, where and who they were." You tell us what level or reporting you'd like, even if it is no reporting at all.
ON-PAGE SEO & PPC
Ongoing Search Engine Optimization (SEO) services are an important part of any marketing strategy that wants to get sales and leads from Google (Google represents the majority in the search engine market, so we focus our efforts mainly on Google), Bing, Yahoo and other search engines. Link building, providing fresh, engaging content and social media marketing all combine to create a successful search engine marketing campaign.
The fact of SEO is that it is a long term strategy. There is a list of things that needs to be checked off that includes things beyond just your website. Social presence, claimed status, quality back links and much more goes into how you are page ranked. We will consult with you to give you guidance on what to do to boost your online presence or who to hire to manage your overall SEO efforts. We keep our operation small (to keep overall costs down), SEO takes a larger team and an engaged client to produce measurable results. There are a lot of companies out there selling their "get rich quick" SEO schemes. Let us consult with you on what actually works and what will only serve to empty your business checking account.
We'll also stay on top of the latest changes from the Google Gorilla and make sure it plays nicely with everything we've done on-page (if we built your site) and try to get ahead of those new changes (as they will surely come) before the Gorilla stars throwing his barrels around and knocking websites off the organic list for newly deemed blackhat tactics. We'll let you know of any red flags we might find in your SEO efforts.
In the short term it is wise to offset a weak organic position with PPC (Paid advertising – these efforts should only be utilized by clients with higher return per customer) till your SEO efforts can bring you up higher organically, then you can reduce your expenditure through PPC and run mainly on your organic positioning if you so choose. However, statistically the top paid for ads get as much as 50% of the clicks on any given search results page. We can consult with you to get your campaign up and running if you choose to do it yourself (anyone with a gmail address can run a PPC campaign) or for a small fee we can get you setup and running through Google Adwords.
HELPING YOU STAND OUT FROM THE CROWD
What Makes Us Tick


About Us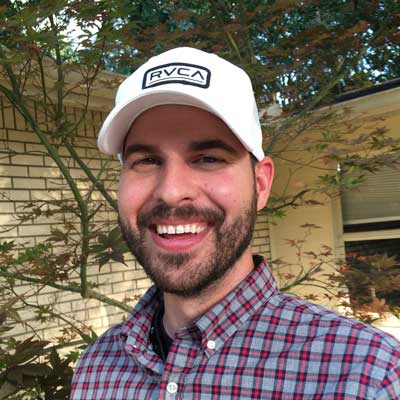 Jerrad drives the OMG team's strategic vision and all facets of the companies operations. Jerrad grew up designing cassette covers for a local church, learning the basic principles of design and software function. After college at Texas Tech, he joined a few different teams trying to find the right fit of passion and vision. Finding his way to starting his own company late in 2013.
Jerrad has a B.S. in Advertising with a concentration on Graphic design. He enjoys teaching others how to utilize the vast array of tools available to the budding graphic artist.
Jerrad believes in persistence and truth. Often called the boy scout, he can be found mountain biking on the weekends or engaging in conflict resolution simulations. Jerrad is powered by God, his Keurig and more coffee.
Why Us?
At Online Management Group we operate differently. We will only represent one client per given field of expertise or service per service area. We want to provide you the competitive advantage. We don't believe in fighting our own strategy and we know that your success is our success. With our low overhead we also keep our pricing competitive. We are also a Christian based company and we operate accordingly.Jerrad Parsons
Our Story
You might think another design company is not needed, you might think we are all the same. We are born out of the frustration you face daily as a business owner. The cold call guy who walks in spouting company statistics in a desperate attempt to get you to sign on a dotted line. The numerous vendors who are only concerned with selling you something. At Online Management Group we focus on minimizing your frustrations by stepping in as your design team, who builds, revises or maintains your brand image and takes on a portion of those frustrations you face. So next time when a guy comes in talking about the website or something else you "need", you can direct them to us.
After working with several other web / design based companies, we found a better way to build and maintain a brand. Our advanced work flow allows us to produce results quickly, so you can be up and running in as little as a week (provided we have all the necessary content). For more information please see Our Process.
We will step in to help you build a better brand image to engage your clients and customers. We'll be your in-house out-of-house design team.
We specialize in building brands that are prepared for the future along with marketing tactics that will keep your brand relevant and viable. In the end your brand is there to help you, not hinder you. It should be a source of income over and above what you spend on getting it built, revised or maintained. That is our focus and we'll work with you to make sure that happens.
Online Management Group (OMG) is here to help our clients maintain their brand image, build them a new one or refurbish the existing one, and to help them market their brand so their investment starts producing returns.
How we do, what we do


THE PROCESS
STEP ONE: DISCUSS YOUR NEEDS
We'll schedule a time for us to come to you so you can tell us about your dream for your Brand or Marketing effort. We believe in face to face conversations especially at the beginning of a project. We'll discuss your overall goals and visual needs without losing sight of the end results. A beautiful marketing effort that doesn't drive sales or calls is a waste of your money. At this stage we'll also discuss whether we are the right fit for your project. We don't take on projects we can't do to the best of our abilities. If we've decided we are a good fit for your company, we will then provide you with a written or emailed estimate on services to be rendered.
STEP TWO: CUE THE DESIGNS
If you are satisfied with the estimate we will then begin the design discussion. Either by phone conversation or preferably face to face, we'll sit down and brainstorm some ideas as to what you want your logo, website, or print piece to look like. Depending on current work load, we'll usually get back to you within a day with some concepts for your project or brand. Websites generally take longer, we suggest you reference the below specific Website Process for more information. Rush jobs generally face an additional charge depending on current work load.
PRODUCE MOCKUPS
If your project is a logo (we'll provide at least 3 different versions), print piece or website we'll start by providing a graphical mockup. This usually includes stock imagery (labeled stock), placeholder text and elements that lack a finished look. This is a crucial step to make sure we are going in the right direction according to your vision.
FINE TUNE A MOCKUP
After your satisfied with your mockup we'll work to fine tune and flesh out the graphics. Basically we'll apply the gloss to the graphical elements, purchase and replace any stock imagery (if required), replace placeholder text in the mockup till you are satisfied.
STEP THREE: GO LIVE
After we've polished the logo, print piece or website we'll work on making your vision a reality by either pushing your site live to our server (or a server of your choice), sending your ad to the publisher, or finding the highest quality most cost effective vendor to produce your print piece.
THAT'S IT, A SIMPLE 3 STEP PROCESS
We believe in keeping the process as clear and understandable as possible. As a business owner or marketing lead you've got enough to worry about. All files belong to you after production, all domains names purchased by your request, graphical assets created will be provided to you upon request even after your project is finished. We'll also keep a copy on our servers so we can better help you in the future.
HOW WE BILL
Any actual expenses for images, domains, or hosting will be billed when the items are purchased for a client (if any). For our website maintenance package we generally bill monthly based upon an hourly rate accrued consistent with the agreed upon update frequency you have requested (additions needing custom programing will take more time). For some website development projects we request a 25% payment when the project begins. Total Balance is due when we complete your site design on our server. Once the balance is paid, I will transfer your site from our private test server to your live domain. On larger projects or projects with phases we may request a progressive payment based upon fulfillment milestones (i.e. finish integration with eCommerce platform, payment). For this type of project we will always discuss a payment schedule with you that we both mutually agree upon. We utilize an electronic web-based invoicing system, Wave , that will email you with invoicing, estimate approvals, and reoccurring payments related to domain names, hosting or our monthly website maintenance packages. Paperless billing is just one of the ways we try to stay green and minimize the hassle for you.
HOW MUCH CAN I EXPECT TO PAY?
Cost will change depending on the scope of the project and the negotiated rate. There are many options out there for website design, what should put me at the top of your list is my honest approach. We offer a level of transparency you won't find anywhere else born from my experience at other companies. We won't sacrifice the design for producing an expedient product and the reality is that a big design shop needs big design dollars. We are currently a small design shop with much lower overhead and lower prices than our competition while producing better solutions.
CALL US TODAY OR SCHEDULE A TIME FOR YOUR FIRST CONSULTATION
Watch as it grows


OUR WORK
OUR PERSONAL TOUCH PROCESS
NEED SUPPORT?
Click the button to submit a request for support. I will do my best to get back to you as soon as possible.
We look forward to hearing from you


CONTACT US
Online Management Group | 5001 Judson Road Longview, Texas 75605